MODELING to MOLD
HALF MODELS, MASTER MODELING
RELEASE
WAX SHINY GLOSSY
SHARPNESS
"MECHANICAL" REALEASE(i.e. "Die Lock" or Reverse Draft)
RLEASE PROCESS and AGENTS:

A. mold prep/ wax with TR

B. buff with Cheese cloth

C. let dry on Polyester; don't let dry on Urethane

D. repeat repeat ......
SOLVENTS:
A. Clay -- turpentine (fake or real)
B. Urethane -- (wet, pre cured) Acetone (fingernail polish remover)
Quickly remove release agents off urethane; do not leave them on.
CHEMICAL ADHESION ("stick")
FINISHES
REPRODUCTIONS (i.e. mold making, core boxes and splashes, and running)
There will be many examples and a "homework assignment". The homework assignment will lend itself to a later lesson concentrating on molding, core boxes, splashing and production of parts.
HERE ARE SOME MICROMODELING TOOLS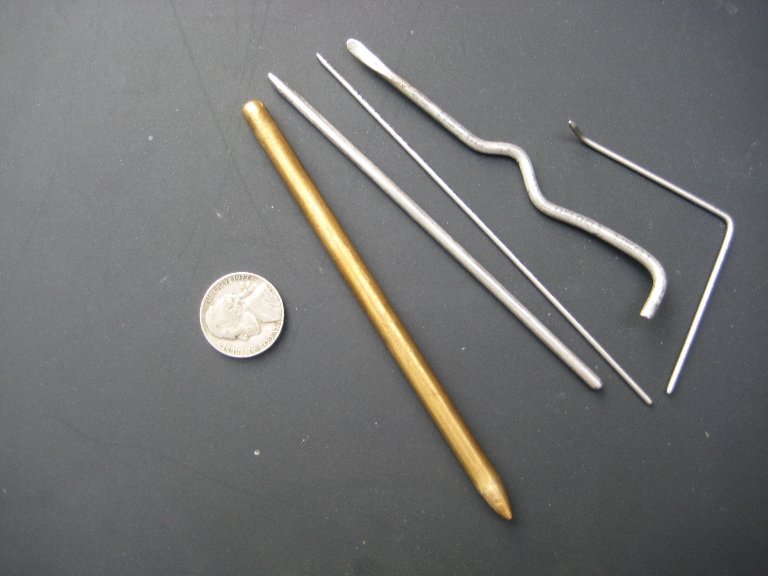 ABOVE- Left to right: 1/4 in dia burnisher, 1/8 dia burnisher/ ball, 3/64 dia burnisher / ball, flat burnisher, turnable micro-burnisher.